I haven't had time to finish the GFS kit installation, but have been thinking about WVO collection and storage.
I happened across this pair of 275gal IBC forkable poly totes while driving to a friend's house outside of town.  They were sitting in someone's yard near the road with a for sale sign.  These were used to store some sort of soap in a previous lifetime.  I was only looking for one IBC, but couldn't believe the price so I bought both thinking that I could give one to my restaurant owner friend.  He declined, so I ended up flipping the spare for a profit on Craig's List.
Rinsing out totes.  They were fairly clean already, so this was mostly a matter of draining the water.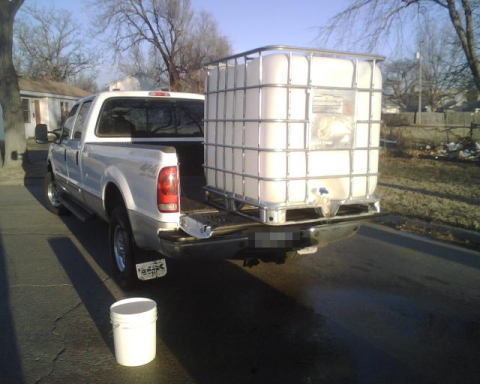 Pair of nice clean totes, waiting for a home.  One will end up in the garage.  The other will end up on Craig's List.