After learning that a friend was blending 75/25 WVO with #2 in his factory tank, he gave me a 5gal sample of oil from his source.  That isn't going to get me very far, so I need to start working on a permanent source of my own.
I got permission to go to one of the local restaurants to pickup enough WVO to get me started.  A friend went with me and filmed the whole thing since this was my first WVO collection on Friday 02/06.  I pumped about 12gal back into two of the original 35# containers and into one half sized container.
You can see how this stuff is settling out after about 48 hours (as of Sun 02/08).  The cubie/box to the right contains more of this pumped oil that I am settling.  I will later learn that the container to the left (the 5gal sample from my blending friend) is Zero Trans Fat Canola oil that is poured from kitchen fryers into buckets, then from buckets into these containers.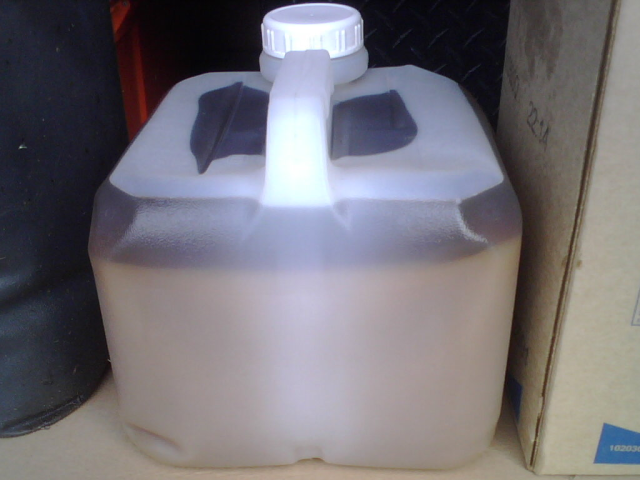 Here's another picture after 96 hours (as of Tues 02/10).  As per the ingredients listed on the original container to the right, this sample is a mix combination of Soybean Vegetable Oil and Hydrogenated Soybean Vegetable Oil.  I'm assuming the dark oil on top is the vegetable oil and the light/creamy oil on the bottom is the hydrogenated vegetable oil mixed with water, fats, etc.  I might be able to use the dark oil, but have my reservations about using the bottom half.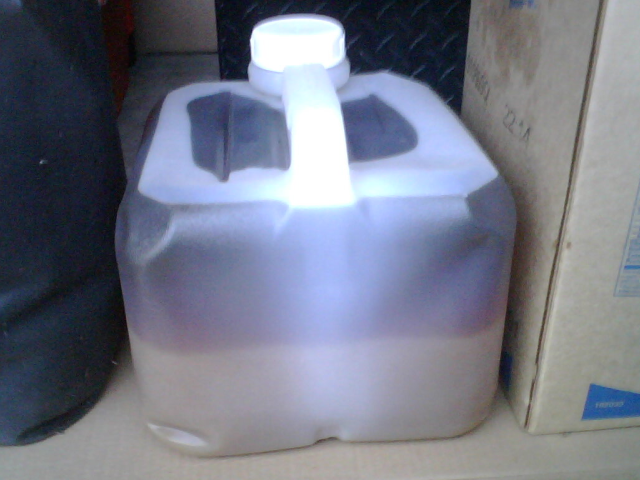 UPDATE: I've left these samples sit for about 4 weeks and ended up with about 50/50 mix of dark and light oil.  I've been told that I can safely run this oil through my truck after I heat and filter the oil.  I'm collecting very clean Canola oil before it leaves a kitchen now, so I'm pretty nervous about this stuff.  Maybe filter and run the dark half?  We'll see.