I've put together a portable kit for WVO collection.  I found the coated work gloves, orange cleaner, shop towels, large container, and small container at Lowe's or Home Depot.  The large container holds the pump, gloves, and small container.  The small container holds clean items such as the shop towels, work gloves.
Close-up picture of the box for the 7gpm pump (Fill-Rite FR1604).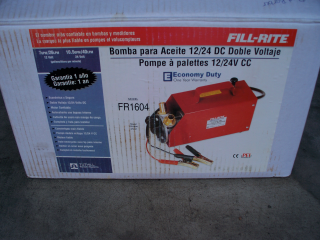 Container packed and ready to go.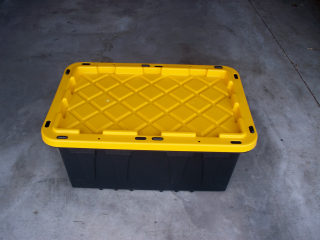 Inside view of container.  Gloves, Pump, Clean Container fit nicely.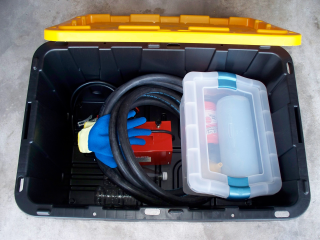 Unpacked view of container.  Pump fits nicely.  Ridges in bottom of container can collect small amounts of loose WVO.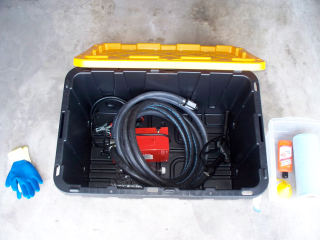 Close-up of pump in container.  The key is to point end of hoses upward so that they do not drain into container while in storage.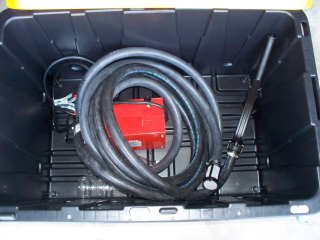 My somewhat transparent collection buckets from Lowe's.  These are 5-gal paint mixing buckets with gallon and liter measurements on the side.  They are a spendy $7-8 per bucket with lid when compared to about $3 each for the white Tractor and Supply buckets I had also considered.  I haven't been able to find any semi-transparent containers with measurement marks anywhere else (yet).  These are very handy for transport, settling and recording volume collected.  Comment if you have a source for something similar.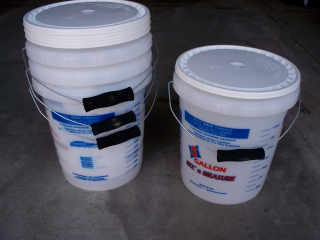 UPDATE: 03/27/2009
I have been using these buckets every week.  I am able to dump fresh fryer oil from metal buckets in the kitchen into these buckets.
I'm glad this pump isn't mounted permenantly in my truck.  I have been using the pump to transfer from these buckets into a sock/bag filter that I put in the top of my 275-gal IBC container.  I just pump a little bit at a time and let the filter drain before pumping again.  I processed the first 6 weekly pickups by letting these buckets settle for 5-6 days, then heating and stirring these buckets, then pumping into the bag filter.
I stopped heating and stirring the last few weekly pickups because I started thinking that all the heat and stirring was cancelling out some of the settling that had occurred.  I am now pumping room temperature (55-65 F) oil into the bag filter and consolidating the bottom gallon of each container into a single container for another week of settling.  Skipping the heating has slowed down filtering a little but will hopefully extend the life of my filter bags.  For some, skipping the heating step may also prevent them from separating water from their oil?  I am not concerning myself with this since the oil is coming directly from the fryers.  As a side note, I am having to use a spatchula to scrape the settled sediment from the bottom of these buckets every few weeks.  I'm probably accumulating 1/8″ to 1/4″ of sediment in each bucket every 3-4 weeks, or about 2 quarts (total) every 3-4 weeks.  The top has a consistency of chocolate syrup, while the deeper stuff has a consistency of fudge.  No unpleasant smell, just dirty work.
I also use the pump to transfer from the 275-gal IBC into my rear onboard tank.  I am not pumping anything "dirty" directly into the rear onboard tank yet.  Everything is filtered into the IBC for now.  If I have used the pump with unfiltered oil, I begin by pumping about 3-4 gal from the IBC into a container that will be run back through the filter bag into the IBC.  By doing this, I hope to purge any unfiltered oil from my pump and hoses.